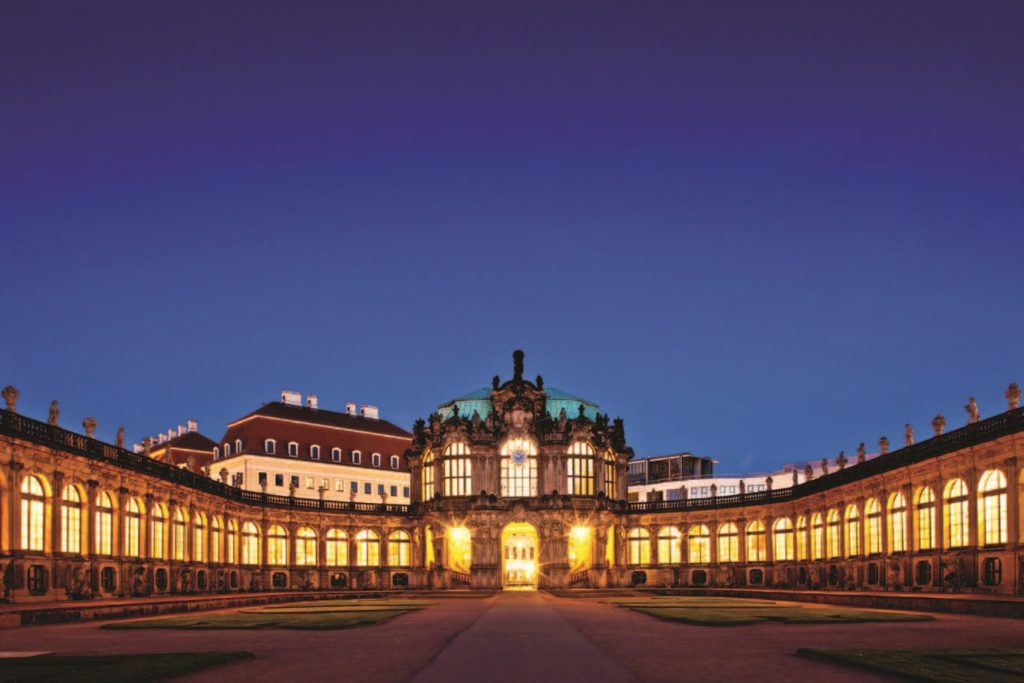 OUR JULY–AUGUST 2014 edition, which we have been planning for some time, includes unique features that will hopefully delight our readers. It was a pleasure collaborating for the first time with Cora Würmell, Curator of East Asian Porcelain at the Porzellansammlung, Staatliche Kunstsammlungen Dresden, who has so expertly detailed the little-known treasures of the enormous Dresden State Art Collections. Five fascinating articles capture the variety of expression and innovation of Japanese artistry. It is somewhat surprising that the Japanese art market has been so thoroughly overlooked in recent years; although Japanese works of art have always been considered to be of the highest artistic and aesthetic standards, they now also represent very good value. It is therefore an excellent opportunity for collectors to learn more about Japanese antiques, contemporary works of art and artists. For this reason, I am delighted that we are able to present this Japanese "special edition" to supplement the previous Japanese issues of Arts of Asia published over the last four decades.
In addition to the stimulating Japanese topics, this issue devotes three articles on the newly opened Liang Yi Museum's collection of Ming and Qing antique furniture, minaudieres and necessaires (bejewelled clutches, compacts and powder boxes). The non-profit private museum with over 20,000 square feet of exhibition space on Hollywood Road has been established by Peter Fung, a renowned collector of antiques for over three decades. At the grand opening, Florence Hui, Under Secretary for Home Affairs of Hong Kong, extended the government's congratulations: "We are encouraged that Liang Yi Museum will become an institution that not only enriches our local cultural landscape, but also reinforces the international profile of Hong Kong as an important cultural capital for the region". The four-storey museum is managed by Peter's daughter, Lynn Fung, who outlines her goals for the museum in one of the articles.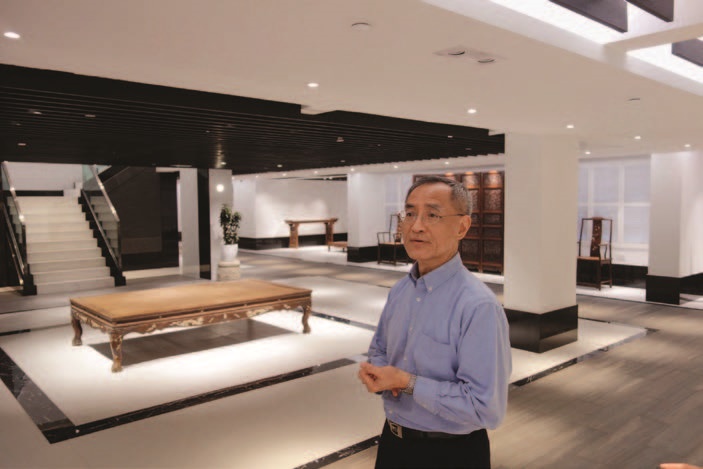 The Baltimore Summer Antiques Show, another major and successful art event, returns to the Baltimore Convention Center for its 34th year. One of America's most distinguished art shows, its doors will open August 21st to 24th, 2014, showcasing more than 575 international exhibitors. "Every year this show gets bigger and better", said Scott Diament, President and CEO of the Palm Beach Show Group. "We have dealers from all over the country that are hand-selected so everyone who attends will be able to shop for the best of the best!" Established Asian art dealers participating at the show include Orientations Gallery, Oriental Treasure Box, Asiantiques, Santos, Imperial Oriental Art, M.S. Rau Antiques, Tenga, Mark Walberg Fine Art & Antiques and John Eric Riis.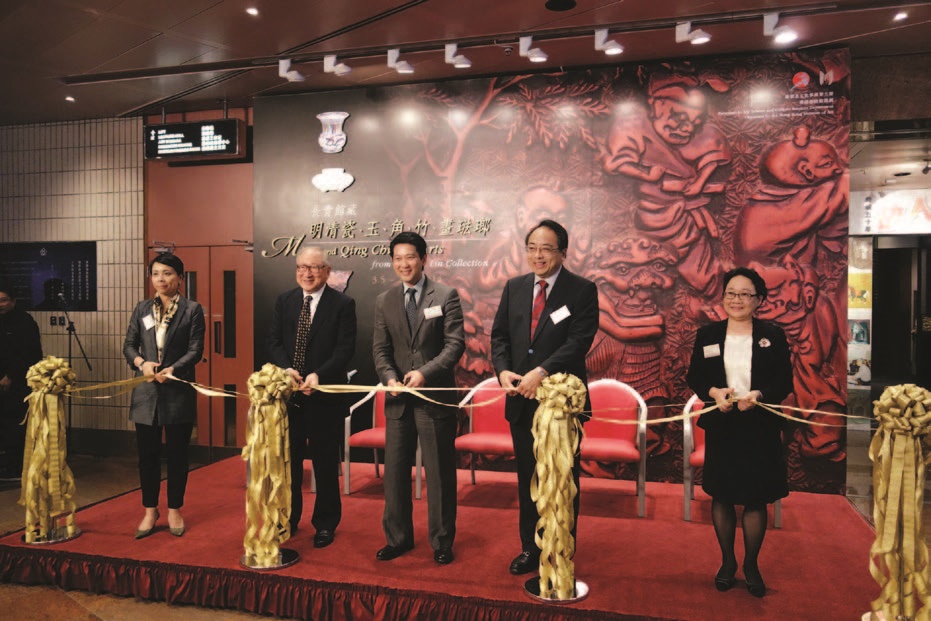 May was certainly one of the most stimulating months in Hong Kong for art events: "Ming and Qing Chinese Arts from the C.P. Lin Collection", Asia Week Hong Kong, Bonhams and Christie's sales, International Antiques Fair, Art Basel Hong Kong and Asia Contemporary Art Show, were just some of the hotly-anticipated events that captivated art lovers. As always, it was a very busy time, but I managed to attend and cover all of the important events, some of which are described in this Editorial.
From May 5th to September 28th, 2014, the Hong Kong Museum of Art is hosting an eagerly anticipated exhibition showcasing 270 of the finest Ming and Qing dynasty artworks from the renowned C.P. Lin Collection. A long-time friend of my parents, Mr C.P. Lin is a veteran collector—dedicated and passionate. He pursued his studies in the United Kingdom where he was soon influenced by the trend of collecting Chinese antiques. I was present at the opening of this fascinating exhibition, and I am delighted to be able to illustrate a photo of the ribbon cutting ceremony officiated by Miss Eve Tam Mei-yee, Museum Director of the Hong Kong Museum of Art; Mr C.P. Lin, collector; Mr Raymond Young Lap-moon, JP, Permanent Secretary for Home Affairs; Mr Tsui Lap-chee, FRS, GBS, JP, Former Vice Chancellor and President of the University of Hong Kong; and Mrs Betty Fung Ching Suk-yee, JP, Director of Leisure and Cultural Services. The exhibition focuses on historical Chinese artistic pursuits. I strongly urge our readers in Hong Kong and those visiting from abroad to find time to make a trip to the museum to view these rarely-seen gems of Chinese art that depict the splendour of China.
This year there were over seventy exhibitors participating in the International Antiques Fair (IAF) in Hong Kong from 24th to 26th May at the Hong Kong Convention and Exhibition Centre. The theme of this year's IAF was "Collectibles of Prosperity" and a series of lectures organised by William and Priscilla Chak took place alongside three special exhibitions: "Anniversary Exhibition of Wu Chang Shuo's 170th Birthday", "Beurdeley Collection: Antique Stone Sculpture" and "Gui Zhen Tang Collection: Song/Yuan Ceramics". French dealer Christian Deydier, a specialist in Chinese archaeology, presented a number of exceptional ancient Chinese ritual bronze vessels formerly from major international private collections, such as C.T. Loo, Chester Dale and Dolly Carter, the Albright-Knox Art Gallery and Rikunosuke Ogawa. Most of the objects are well known, having been recorded in significant English and Japanese publications.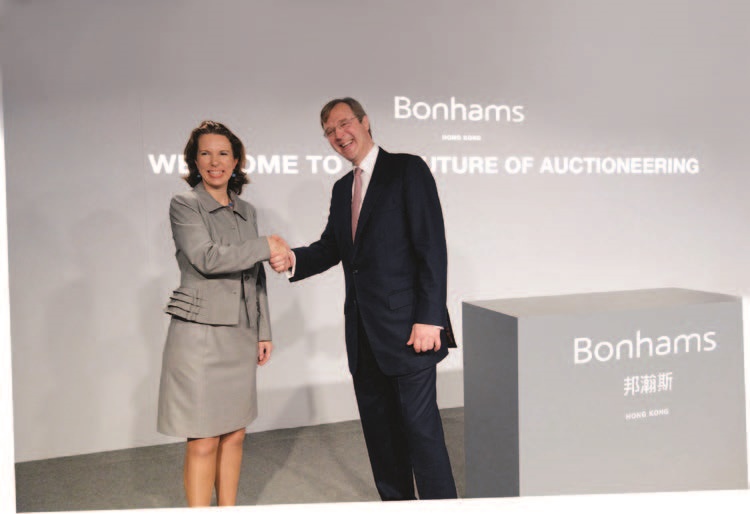 Following the recent trend of the leading auction houses opening their own galleries, I am pleased to announce that the new Bonhams Hong Kong Gallery at Pacific Place opened on May 8th, 2014. The guest of honour, British Consul General to Hong Kong and Macao Caroline Wilson, was welcomed by Group Chairman Robert Brooks and the Directors of Bonhams Colin Sheaf, Malcolm Barber and Dessa Goddard. It was a very happy occasion attended by 300 guests. Ms Wilson said, "It is great to be able to combine art, business, culture, retail and make history in one event. The Bonhams dedicated saleroom is a huge vote of confidence in Hong Kong and the Chinese regional and global marketplace it represents. Bonhams has already voted with its feet in opening offices in Beijing, Taipei, Hong Kong and Singapore. With this permanent auction space I am sure you will revolutionise auctioneering in Hong Kong and the region."
Hong Kong has developed into one of the world's most important art centres, but the art market is always evolving. Other auction houses have held some smaller auctions on their own office premises, but they still hold their main sales at the Hong Kong Convention and Exhibition Centre or at leading hotels in the heart of the city. Bonhams is the only international auctioneer to have designed and created in Hong Kong a dedicated auction gallery whose principal function is to hold on-premises auctions all year round. Their intention is to sell a wider range of property than has traditionally been the case in Hong Kong, with a broader spread of price levels. It will be very interesting to see how this approach influences the auction business in Hong Kong.

---
Please click here to view the contents of this issue.