AS HONG KONG prepares to celebrate the 20th anniversary of its handover from Britain to China, I am delighted that the Hong Kong Special Administrative Region Government is playing a leading role in the development of arts and culture in the city. According to latest official figures, the Leisure and Cultural Services Department has been allocated HK$194 million (US$25 million) for major cultural exhibitions in Hong Kong. These include "Eternal Life-Exploring Ancient Egypt" at the Hong Kong Science Museum (June 2nd to October 18th), co-organised by the British Museum; "Hall of Mental Cultivation of The Palace Museum—Imperial Residence of Eight Emperors" at the Hong Kong Heritage Museum (June 29th to October 15th), jointly organised by the Hong Kong Museum of Art and The Palace Museum, Beijing; and "Longevity and Virtues—­Birthday Celebrations of the Qing Emperors and Empress Dowagers" at the Hong Kong Museum of History (July 2nd to October 9th), co-organised by The Palace Museum. I am greatly looking forward to all of these important shows, as well as the Museum Summit (June 26th to 27th, 2017 at the Hong Kong Convention and Exhibition Centre), presented by the Leisure and Cultural Services Department of the HKSAR Government, in association with The Palace Museum. At the Museum Summit, twenty speakers from world-famous museums will share their experiences and insights on a wide array of topics around the theme, "Museums in a New Era".
I am proud to present several articles on prominent collections and museums in my home town. Susan Ollemans has written an expansive and thoughtful lead article on the Tuyet Nguyet Collection of "Ancient Gold Rings from Asia" (Indonesia, Cambodia, Myanmar, Vietnam, Thailand, India, Tibet and Nepal). Over a period of forty years, Madam Tuyet Nguyet (my mother) acquired her collection of 100 rings with the aim of gathering the best regional examples. I was often by her side when she made her selection and we would together carefully inspect each ring to ensure that it was not only an object of beauty, but also the best example of its type. Given the changes in the market that have taken place over the last decade, today it would be considerably more difficult, if not impossible, to build such a fine collection of gold rings representing the entire Asian continent. For this reason, I have decided to share these treasures with our readers in this special Hong Kong issue.
I am also honoured to present interesting and well-­reseached articles by several leading academic experts based in Hong Kong. Dr Xu Xiaodong and Dr Tong Yu, from the Art Museum, The Chinese University of Hong Kong, discuss the art of leisi, a technique where gold wires are twisted and pinched into different forms, and welded together to build a flat or three-dimensional shape. Leisi objects illustrated in their article hail mainly from the Song to Ming dynasties, but leisi objects dating to the Tang dynasty have occasionally been unearthed. The authors also discuss the history of kingfisher feathers as adornments; these have been highly valued by members of Chinese court over the centuries, especially during the Song dynasty.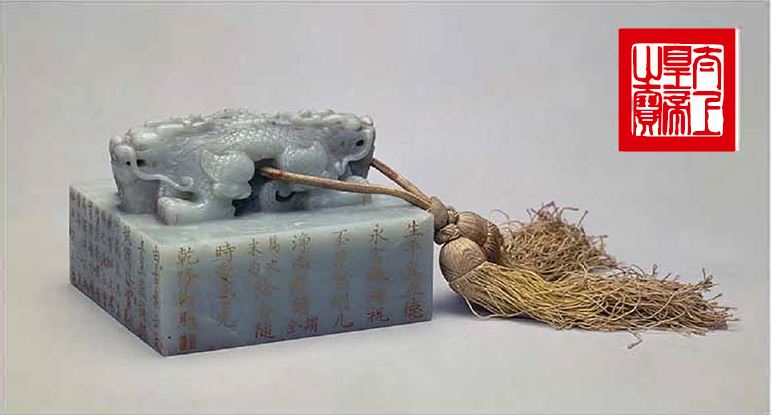 Professor Peter Lam, the renowned art historian and Honorary Research Fellow, Institute of Chinese Studies, The Chinese University of Hong Kong, examines Imperial Ming and Qing porcelains from the Tianminlou, Huaihaitang and Dawentang Collections in Hong Kong. He explores why collecting has become such an important tradition in Hong Kong, and describes some of the invaluable items in these distinguished collections.
Eve Tam, Director of the Hong Kong Museum of Art, celebrates the museum's 55th anniversary by commemorating several key patrons, who have helped to shape the museum during its different stages of development. She identifies the first patrons, the close bond created with collectors over the years, and new ventures planned for the future.
Over the last thirty years there has been a noticeable increase in the number of maritime museums established around the world. Our city is fortunate to have one of the finest in the Hong Kong Maritime Museum. Dr Patrick Conner has kindly written a brief history of the museum and how it found a home on the famed Hong Kong waterfront, explaining: "The creation of the museum, and its relocation in Central, has been due above all to the extraordinar y vision, energy and persuasive skills of shipping executive and collector, Anthony Hardy."
Finally, Hugh Moss and Professor Richard John Lynn have co-operated to produce a fascinating article on Chinese soapstone carving. Extensively researched, with numerous professional photographs of superb examples, I am confident that our readers will gain a new appreciation of this hitherto underappreciated art form.
As I write this Editorial, I am musing on the recently concluded Asia Week Hong Kong 2017. This year marked the tenth edition of the International Antiques Fair in Hong Kong. Organised by Chak's Investment Ltd from May 26th to 30th, the fair showcased more than seventy dealers from around the world. I spent considerable time on the floor of the fair, and every exhibitor with whom I talked seemed to be in good spirits, doing decent business and enjoying their time in Hong Kong; many said they would like to return again next year. In addition to searching for treasures, visitors were also able to enjoy the series of informative lectures, special exhibitions and tea ceremony demonstrations at the fair. I encourage the organisers to continue to expand their fair as it is increasingly valued by collectors, who gather annually in Hong Kong the last weekend in May to acquire objects of historical significance and rarity.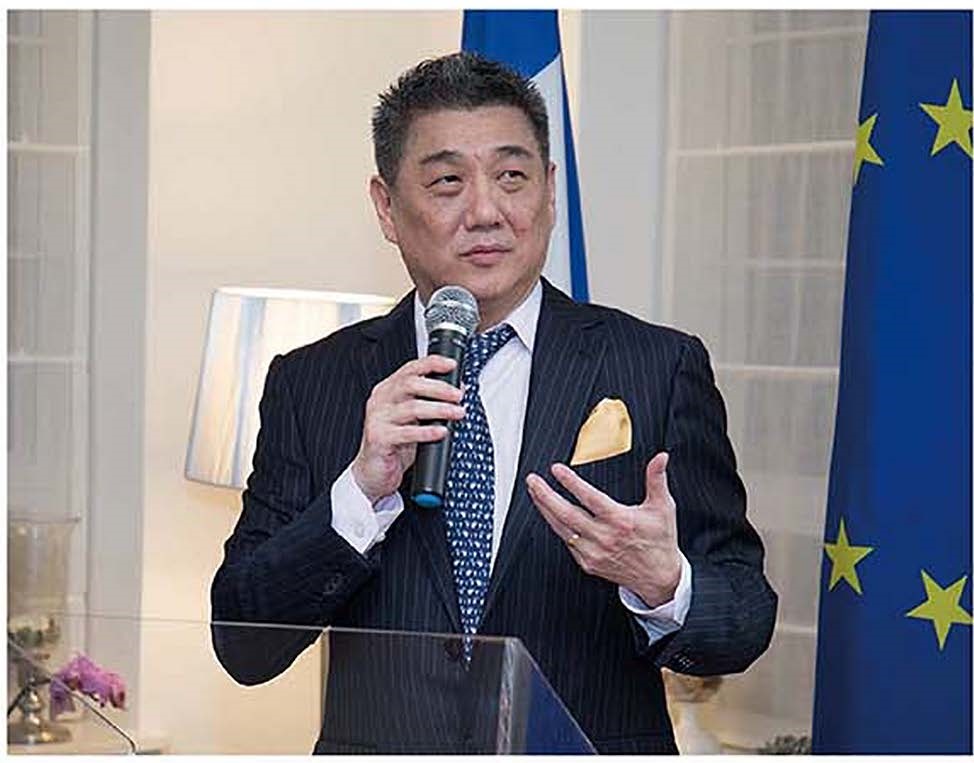 A top highlight of the Asia Week Hong Kong auctions was a magnificent Imperial Tang-style celadon-glazed amphora, Yongzheng six-character seal mark in underglaze blue and of the period, that set a world record price for Qing monochrome porcelain. Having sold for HK$17,432,750 at Christie's in 2004, this large and exceedingly rare vase set a new world record for Chinese monochrome porcelain just twelve and a half years later, selling for HK$140,540,000 (US$18,129,688) in a stand-alone sale at Christie's on May 31st, 2017. I was sitting in the packed auction room with several friends, including Stuart Marchant, Mr C.P. Lin and Yumiko Greulich, as we witnessed this momentous occasion. Congratulations to Pola Antebi and her colleagues at Christie's!
In fact, more than ten major auction houses conducted sales of important Chinese ceramics, works of art and paintings in Hong Kong during Asia Week. Sotheby's held a very successful mid-season sale, particularly the Huai Qin Ge Collection of early jades, as well as a collection of Song dynasty and other early ceramics. Both groups had been assembled by discerning collectors in Hong Kong; clearly, strong demand in these fields continues, especially when items fresh to the market are offered with provenance from the 1960s to the 1990s.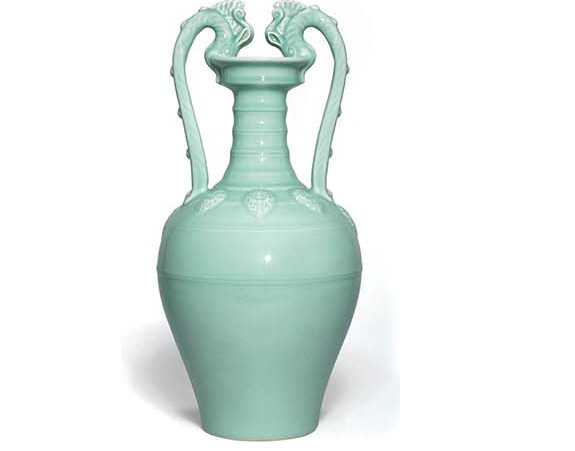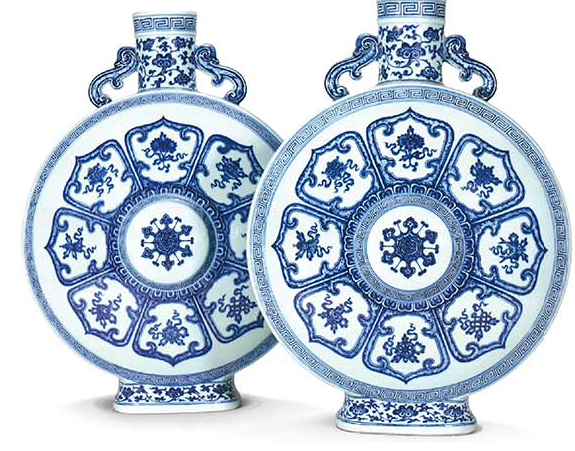 The Asian art market thus continues to be surprisingly robust, and there is a strong appetite among collectors for masterpieces of Qing Imperial ceramics. Exceptional results were achieved at the Bonhams Hong Kong Chinese ceramics and early jade sales. The top performing lot in the "Fine Chinese Ceramics" sale was the rare pair of Imperial blue and white "Bajixiang" moonflasks, bianhu, Qianlong seal marks and of the period. They were sold for HK$28,540,000 (US$3,660,000) against an estimate of HK$20,000,000- 30,000,000. Throughout the preview these impressive moonflasks were examined by collectors and dealers, who took advantage of the opportunity of handling a large well-­matched pair, which are in exquisite condition. I even saw several people taking selfies with the vases! In yet another packed auction room, the moonflasks attracted frenzied bidding from global collectors before being hammered down to a Chinese bidder in the room.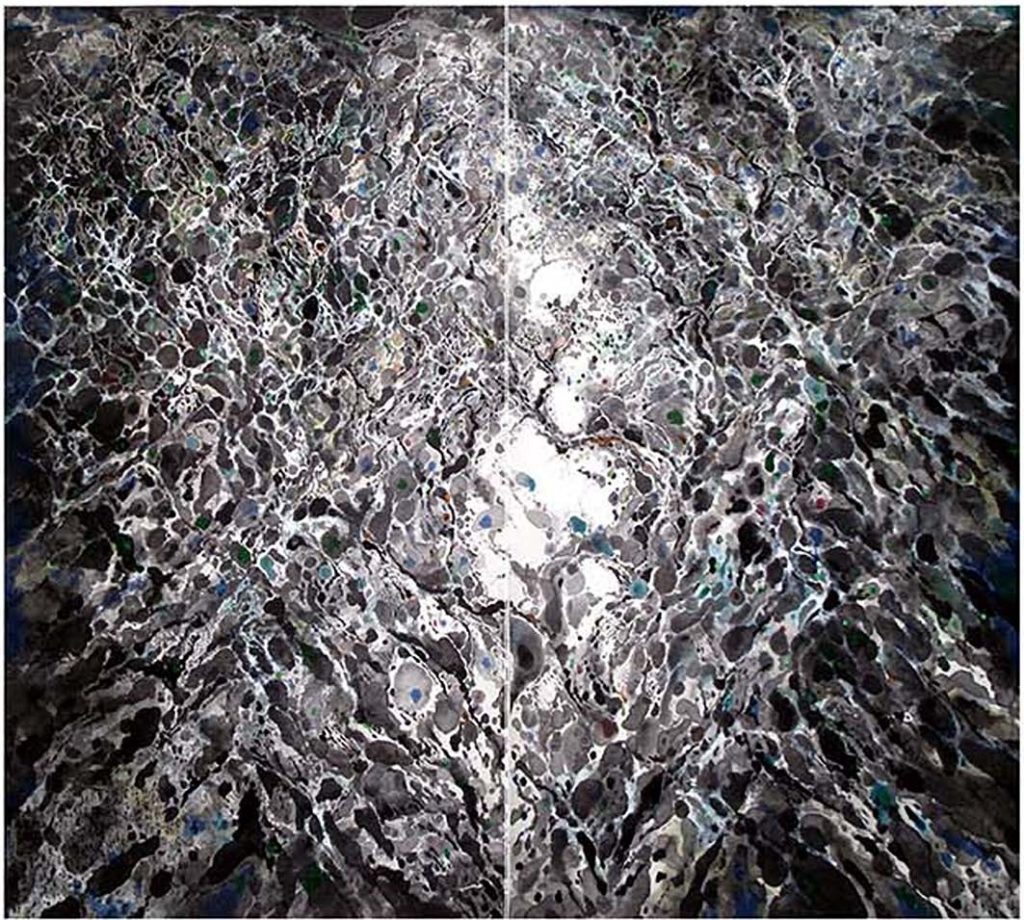 I would also like to mention that Daphne King, Director of Alisan Fine Arts, presents "Desiring—Post 97 Hong Kong Ink Art" at the gallery's new location (21/F Lyndhurst Tower, 1 Lyndhurst Terrace, Central, Hong Kong) from July 5th to August 31st, 2017. This exciting show explores the evolution of local ink art pre and post 1997. Showcasing the ink works of ten local artists of different generations and styles, the exhibition traces the footprint of Hong Kong's ink art reformation. The exhibiting artists include Fang Zhaoling and TC Lai, who took reference from Western painting style, and Lui Shou Kwan and Wucius Wong, pioneers of the New Ink Painting Movement.
The continued activity and enthusiasm in the art market demonstrates yet again that Hong Kong is the leading international centre for collectors seeking high quality Chinese and Asian art. It is also comforting to witness first-hand that the number of new collectors across Asia is growing, which bodes well for the future. For almost five decades, Arts of Asia readers have enjoyed a close affinity with Hong Kong and its cultural heritage. I hope that collectors, scholars and connoisseurs of Asian art will enjoy the articles in this special edition commemorating the 20th anniversary of the establishment of the Hong Kong Special Administrative Region.

---
Please click here to view the contents of this issue.