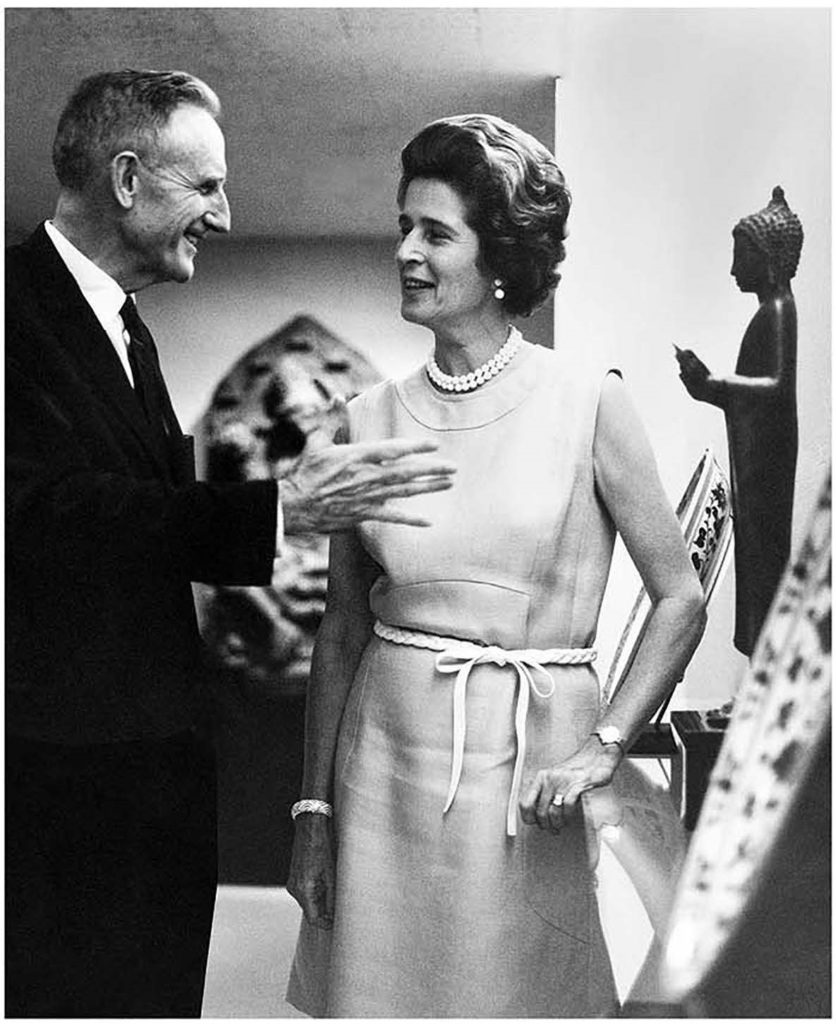 AS A KEEN COLLECTOR, I have been very fortunate in having exposure to the finest Chinese ceramics on display in the world's leading museums, at auction houses and galleries, as well as in private collections. For this July–August 2018 issue, it is therefore my great pleasure to publish three excellent articles on prestigious collections of Chinese ceramics, which demonstrate respectively an American, British and Japanese approach to collecting by truly eminent collectors—Mr and Mrs John D. Rockefeller 3rd, Sir Percival David and Mr Ise Hikonobu. I am confident that these articles will be of considerable interest to any serious collector or connoisseur.
Leading my Editorial is a photograph of Mr and Mrs John D. Rockefeller 3rd taken in the reception area of Mr Rockefeller's office at Rockefeller Plaza in New York. John D. Rockefeller 3rd and his wife, Blanchette, began their collection in the early 1960s with the help of Sherman Lee, the renowned art historian. They formed one of the most celebrated collections of Asian art in the United States, wanting the collection to represent the finest accomplishments of the arts of Asia and to be representative of the breadth of those cultures. I would like to thank Dr Adriana Proser, John H. Foster Senior Curator for Traditional Asian Art at Asia Society Museum, New York, for writing such an informative article on the Rockefeller Collection.
Selected for the front cover is a Cizhou stoneware sgraffito-­decorated meiping. It was on Sherman Lee's recommendation that the Rockefellers decided to purchase this exquisite object from Giuseppe Eskenazi, the widely respected London art dealer, not long after he had bought it from a very distinguished collection in Paris in May 1976 (see A Dealer's Hand: The Chinese Art World Through the Eyes of Giuseppe Eskenazi, in collaboration with Hajni Elias, Scala Publishers Ltd, 2012, p. 69, no. 56). Interestingly, another Northern Song meiping, with almost identical scrolling peony design, is in the Ise Collection (shown here and in Dr Christian Boehm's scholarly article in this issue, p. 41, no. 13).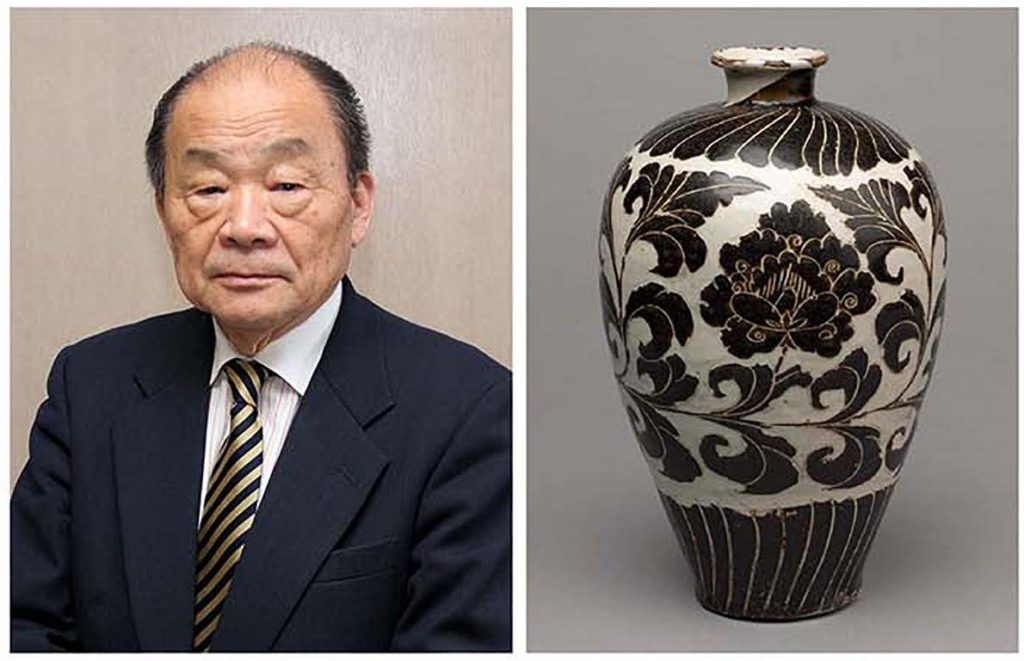 John D. Rockefeller 3rd, who founded the Asia Society in 1956, saw art as being an indispensable and integral tool for promoting better understanding between the countries of Asia and the United States. I, too, believe that art helps to build bridges between the diverse cultures of the East and West, and this remains one of the primary goals of this magazine.
I would also like to thank Colin Sheaf, Chairman of The Sir Percival David Foundation Trust, for his fascinating article that provides a personal insight into the man behind the Sir Percival David Collection, which he describes as "one of the world's two greatest collections of imperial Chinese ceramics: it is unparalleled in its scope, consistent quality, accessibility and academic significance". Housed at the British Museum, this outstanding collection is a "must visit" for art lovers with an interest in Chinese ceramics.
It was very exciting to witness the increasing global participation during Asia Week Hong Kong 2018, which commenced on May 23rd with a well-attended evening reception at the Korean Cultural Center in Central, Hong Kong. This splendid event was organised by Candice Lee, Director of Asia Week Hong Kong, and Jongtaek Park, Director of the Korean Cultural Center. The officiating guest, Cherry Tse, Permanent Secretary for Home Affairs, welcomed the audience and emphasised that Hong Kong is not only a vibrant international city, but has also become a leading centre for art collectors. Her speech was followed by an excellent lecture, "Discoveries from the Sinan Shipwreck", given by Professor Youngmi Kim of the National Museum of Korea. Many of the guests arrived in national dress-cheongsam or hanbok-which added to the festive atmosphere.
Numerous art events took place around the city throughout the week, but the busiest venues were definitely the Chinese works of art and paintings auctions held at Bonhams, Christie's and Sotheby's. The saleroom reports will be published in our next edition, but I am illustrating in this Editorial an extraordinary vase, sold during Christie's Hong Kong spring sales series, that accords with the Chinese ceramics theme of this issue. Kept in storage at the Philbrook Museum of Art in Tulsa, Oklahoma, this magnificent doucai and famille-rose vase was made by order of Emperor Qianlong. Against strong competition in the room and on the telephone, Robert Chang, the legendary art dealer and collector from Shanghai, purchased the vase for HK$130.6 million (US$16.7 million), far surpassing the estimate of HK$70–90 million.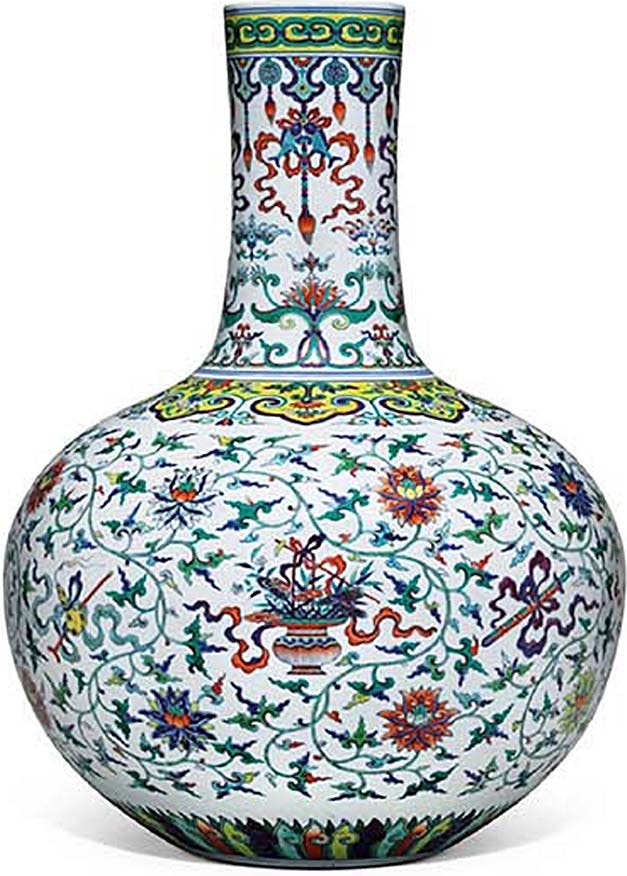 The name of this shape of vase in Chinese is tianqiuping, which means "heavenly globe vase". Tianqiuping is one of the most difficult and technically challenging shapes to create and this impressive example is perfectly fired—a testament to the great skill of the potter. Rosemary Scott, Christie's Senior International Academic Consultant for Asian Art, explained that "the tianqiuping shape really came to prominence in the 18th century on imperial porcelains commissioned by emperors, who were unconcerned by the cost of producing such extravagant vessels". This masterpiece is decorated with a myriad of auspicious symbols and blessings—on the body with the anbaxian, "Eight Daoist Emblems", each tied with flowering ribbons, amid leafy scroll issuing lotus blossoms in two rows, all between lappets at the foot and a band of cloud-shaped collar at the shoulder. The neck is enamelled with four lotus blossoms, beneath pendant double-fish and musical chimes.
The Philbrook Museum of Art plans to use the proceeds from this sale to fund the museum's endowment for new acquisitions of art. Scott Stulen, Director and President of the Philbrook Museum of Art, explained: "This sale will provide us with a way to broaden our collection, to help us create an even greater impact on our community through the art we exhibit and the stories we tell with that art. This one piece will potentially allow us to purchase hundreds of other works of art."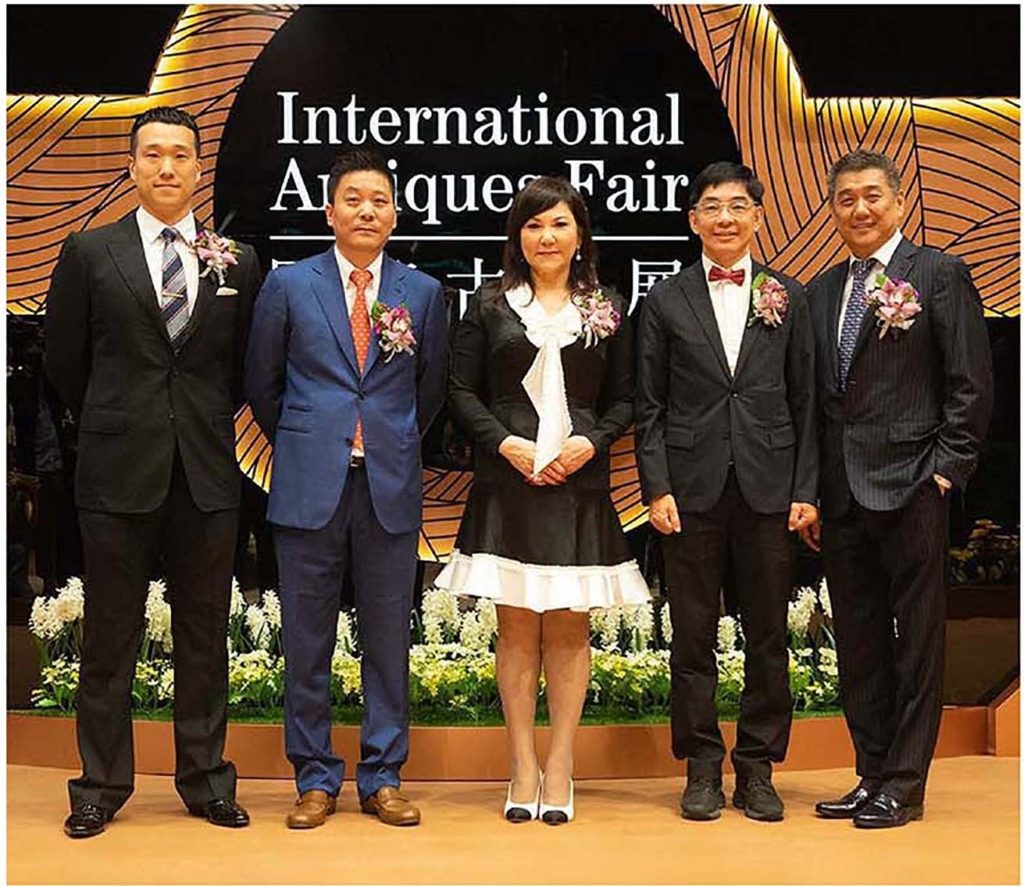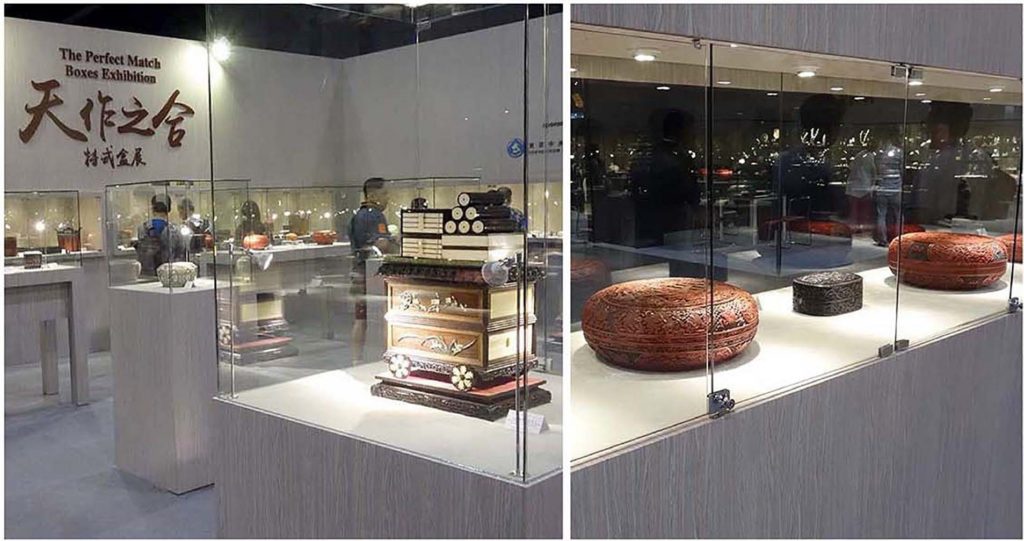 It was also a pleasure to attend the vibrant opening of the International Antiques Fair, which has become a significant meeting place for collectors, connoisseurs and dealers from both the East and the West. Founded by William Chak, Chairman of the Executive Committee of Hong Kong Art Craft Merchants Association, and Priscilla Chak, his wife, and managed by Ronald Chak, their son, the fair is a wonderful annual event for promoting antiques, art and culture. Officiating at the reception were Ronald Chak, Shokei Ando, President and CEO of Tokyo Chuo Auction, Margaret Choi, Chairlady of Po Leung Kuk, Eddy S.H. Li, President of Hong Kong Chinese Arts and Culture Promotion Foundation, and William Chak. Proceeds from ticket sales for the Charity VIP Preview raised HK$500,000 to benefit the Po Leung Kuk Medical Assistance Fund-raising Programme.
Around seventy dealers from Hong Kong, China, Asia, Europe and the United States participated at this year's event, which lasted four days. "The Perfect Match-Boxes Exhibition", sponsored by Tokyo Chuo Auction, received great attention and praise from visitors. An exceptional array of boxes of various sizes and function were carefully selected and presented at this curated show, including those used for storing powder, incense, oil, accessories, mirrors and chess sets. In terms of material, there were examples made of porcelain, lacquer, gold, silver, wood, bamboo, jade and stone. Loaned mainly by collectors and dealers from Hong Kong, the special exhibition afforded visitors a rare opportunity to view and appreciate this outstanding genre of Chinese artwork.

---
Please click here to view the contents of this issue.