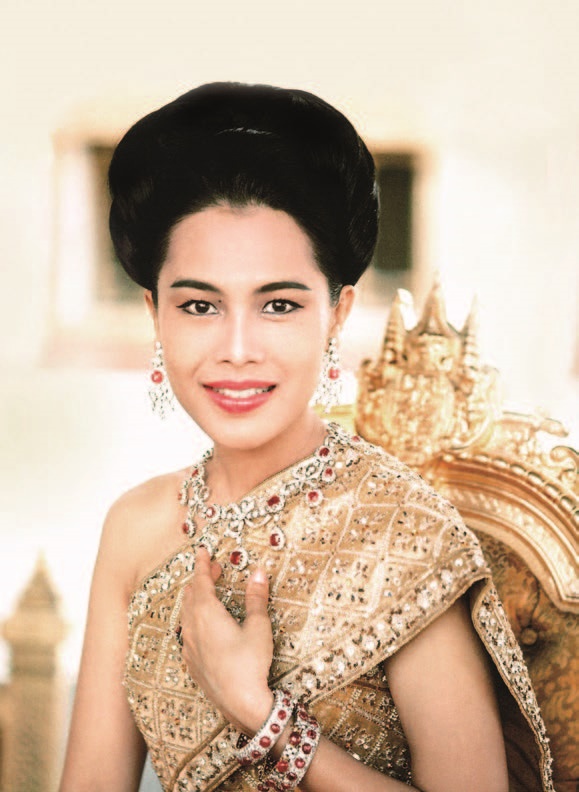 JUST BEFORE the New Year, my wife Nancy and I had a relaxing holiday in vibrant and cultural Bangkok—one of our favourite cities. It was good to take a break from the hustle and bustle of Hong Kong, and the highlight of our trip was visiting the Queen Sirikit Museum of Textiles (QSMT) in the grounds of the Grand Palace. The museum is the defining textile legacy of Her Majesty Queen Sirikit and her SUPPORT Foundation. In 1976, Her Majesty created the SUPPORT Foundation to encourage the production of traditional Thai handicrafts, which had almost disappeared. With the establishment of this beautiful, yet research and conservation-focused museum, her efforts to safeguard the preservation of Thailand's textile art for future generations have taken a major step to fruition.
As our readers will discover, this has clearly been a very special project on which no expense has been spared to ensure that the museum is able to pursue successfully its stated mission "to collect, display, preserve, and serve as a center for all who wish to learn about textiles, past and present, from Southeast Asia, South Asia, and East Asia, with a special emphasis on the textiles of, and related to, the royal court and Her Majesty Queen Sirikit". Nine years in the making, the QSMT is Thailand's newest museum, having been created through the generous donation of the museum building by His Majesty King Bhumibol Adulyadej, an endowment in the form of many daytime and evening ensembles from Her Majesty Queen Sirikit, and the efforts of a team of Thai and international textile experts.
The transformation of the building, which was constructed in 1870 and used to house the Ministry of Finance, into a modern museum began in 2003. The building was completely remodelled; its state-of-the-art facilities include a new lobby, galleries, dedicated storage areas, an education studio, library, lecture hall and Thailand's first textile conservation laboratory. In November 2013, the QSMT hosted its inaugural international symposium with two hundred attendees, including Arts of Asia Contributing Editor Paul Bromberg, who reported on the event in the January–February 2014 issue. The symposium was a resounding success and an inspiring event for leading academics from Thailand and around the world.
In honour of Her Majesty Queen Sirikit, who has devoted decades to wearing and promoting indigenous Thai textiles, this May–June 2014 issue features a select group of scholarly articles by renowned specialists. The authors include Dr Susan Conway (London), Sylvia Fraser-Lu (Washington, DC), Gillian Green (Sydney), Julia M. Brennan (Washington, DC), Melissa Leventon (San Francisco), Dale Carolyn Gluckman (Los Angeles), as well as the curators and conservators at the QSMT—Piyavara Teekara Natenoi, Piyanan Petcharaburanin, Alisa Saisavetvaree, Parichat Saengsirikulchai, Yaowalak Bunnag and Sarttarat Muddin. I would especially like to thank Dale Carolyn Gluckman and Melissa Leventon, senior consultants at the QSMT, for their enthusiasm and their many helpful suggestions. We hope that readers will enjoy the seven main articles in this unique issue, and we encourage you all to visit the museum in Bangkok to see its beautiful collection as represented by the image on the cover of the magazine.
On February 28th, I had the pleasure of attending the opening of the James Christie Room and to preview a special exhibition, "The Best of the Best", on the 22nd floor of Alexandra House in Hong Kong. The stellar event showcasing rare Chinese works of art as well as Chinese and Western paintings, for private sale and simply for exhibition, was well-attended by collectors and aficionados with close ties to Christie's. Founded in 1766 in London, this famous auction house today has fifty-three offices in thirty-two countries and twelve salerooms around the world. Throughout its long history, the auction house has had an ever-growing interest in the sale of Asian art, with Asian clients becoming increasingly important to the company in the late 20th century. Looking at the current state of the regional auction market, our subscribers may be surprised to learn that Christie's only held its first Asian auction in Tokyo in 1969. Since then, the company has expanded its presence to twelve offices around the region, culminating in 2013, with approval from the Chinese government to be the first foreign auction house to hold auctions in China without a domestic joint-venture partner.
In recent years, Hong Kong has grown to become Asia's most important auction centre and the world's third most valuable sale site after London and New York. Following a recent trend of wishing to offer more than just auction services to its customers, Christies launched its own flagship gallery, named after the firm's founder James Christie. The James Christie Room has the capability to hold uniquely curated exhibitions, educational art forums, sponsored and charity events, private sales and auctions of speciality categories. As stated, this is the emerging trend for all the major auction houses—Sotheby's, Bonhams and Poly Auction also have gallery/exhibition spaces in Hong Kong. Additionally, during the first week of March 2014, all eyes were on Poly Culture Group's Hong Kong IPO which raised US$331 million, and was 606 times oversubscribed. Poly is one of China's leading art auctioneers and the third biggest globally by revenues. The cash raised from the IPO will help Poly Culture Group's auction unit grow internationally—the company started holding auctions in Hong Kong in 2012.
I would also like to draw readers' attention to the greatly enlarged second edition of Asia Week Hong Kong that will take place from May 17th–24th, 2014. Please find full details at the improved official website (www.asiaweekhk.com). Drawing on the respective successes of Asia Week New York and Asian Art in London, organisers Edward Pranger and Candice Lee and their team have prepared an exciting week-long programme of special exhibitions, lectures, receptions, museum and gallery tours, and more, with the stated aim "to bring together knowledge on Asian arts from all areas to offer to a wider audience in an accessible manner". The event is now well supported by numerous art and antiques galleries in Hong Kong, as well as a number of leading corporate sponsors. Personally, I am thrilled that the continued expansion of Asia Week Hong Kong is yet another step in Hong Kong's exciting development as a regional cultural and arts centre.
As a key participating event in Asia Week Hong Kong, the International Antiques Fair has developed into one of the most prestigious art and antiques fairs in Asia where collectors and connoisseurs meet to buy and appreciate top-class antiques. From May 24th–26th, 2014, the seventh edition of the International Antiques Fair will be held at Hall 5BC in the Hong Kong Convention and Exhibition Centre. The venue will be even larger this year in order to accommodate the expanded number of participating dealers, with a considerable representation travelling from Europe.
The fair was founded by William Chak, the established Hong Kong antiques dealer who represents many serious art collectors from China and the region. William wants his stylish show to be an exciting platform to facilitate information exchange, as well as to promote art and antiques. With the support of his wife Priscilla and brother Ronald, as well as an efficient organising team, they have worked hard to encourage leaders in the industry, dealers and auctioneers to participate at the 2014 fair, which is open to the public free of charge. The VIP Opening Preview on May 23rd, 6–9 pm, will be highly anticipated by private and institutional collectors from around the world eager to find new treasures to add to their collections. I hope that the International Antiques Fair 2014 can achieve a record attendance and strong sales in all sections.
It is reassuring that there continues to be a great level of interest in Asian art not only in Hong Kong, but also around the world. For the latest results at New York auctions featuring iconic masterpieces, please refer to the Saleroom News reports in this edition. The encouraging attendance during Asia Week New York 2014, where high-profile collectors and museums competed for extremely rare and exquisite artefacts, is a sign of continued market confidence.

---
Please click here to view the contents of this issue.