I HOPE all our readers have had an enjoyable summer and are safe and well. For our Autumn 2021 issue, I am excited to present this special edition on "Appreciating Chinese Scholar's Objects". The luxury goods of their time, scholar's objects represented the physical embodiment of the scholar's intellectual curiosity and aesthetic taste. During the Ming and Qing dynasties, the literati class built studios, often surrounded or adjoined by gardens, that they filled with elegant and often expensive scholar's objects.
I have commissioned nine impressive articles featuring exceptional scholar's objects for this special issue, and feel confident that these will delight art connoisseurs, collectors, curators, dealers and historians. The scholar's objects featured include beautiful paintings and calligraphy brushes and accessories, furniture, musical instruments, implements for preparing and consuming tea, fly whisks, paperweights, rocks, brush pots, ink stones, containers and vases. Many of these utilitarian objects, that also doubled as works of art, were made from precious materials, such as ivory, jade, lacquer, cloisonné, gilt-bronze and rare woods, including zitan and huanghuali.
We have had a busy summer, and I am delighted to announce that we have completely redesigned our website. The fresh new look and high-quality content will appeal to anyone interested in Asian art. In the first phase, we are now offering both print and digital subscriptions, as well as making digital back issues available. It is also now possible to subscribe to the full digital archive of Arts of Asia from 1971 to the current edition—more than 300 issues can be accessed in their original format—providing invaluable information. Users can also undertake advanced searches to find specific references or articles. We are planning to provide more exciting offerings in the second phase, but in the meantime, I would like to invite all readers to explore our new website at www.artsofasia.com.
After forty-three years as editor of the Journal of the International Chinese Snuff Bottle Society (ICSBS), Berthe Ford (now president of the Society) has handed the baton to Clare Chu. Clare has worked in the field of Chinese snuff bottles for almost forty years, and is the secretary and a director of the Society. She continues to work as a scholar-dealer, focusing on the development of collections with their owners, and as a lecturer and teacher. More recently, Clare has curated a number of museum exhibitions of snuff bottles and is presently producing two catalogues for an exhibition that she curated of more than 750 bottles. This will be held in October at the Dr Sun Yat-sen Memorial Hall in Taipei, and is open to the public. As editor of the Journal of the ICSBS, Clare will continue to produce three scholarly issues a year for the Society. Clare is also a published poet, who often draws upon her knowledge of Asian art for inspiration.
I would like to share the sad news that Shirley Z. Johnson, my dear friend and a contributor to Arts of Asia, passed away peacefully on July 9th, 2021. She had a long battle with ovarian cancer and amazingly accomplished a huge amount during her illness in terms of scholarship on Japanese metalwork. Her articles for this magazine included: "Japanese Metal Art: An Enduring Tradition" (May−June 2017); "Chinese Ancestor Portraits in the Sackler's Collection" (July−August 2003); and "A Textile Collector's Approach to Collecting" (July−August 1995).
Shirley served on the Board of The Textile Museum in Washington, D.C. from 1989 to 2003 and on the Board of the Smithsonian's National Museum of Asian Art from 2004 to 2012, and from 2017 until her death. The National Museum of Asian Art is honoured to be the primary beneficiary of Shirley's philanthropy, which embraced many institutions and causes, including a gift of Meiji period metal art to the Walters Art Museum in Baltimore and a bequest to the George Washington University Museum and The Textile Museum.
Shirley's extensive gifts to the National Museum of Asian Art include her archives on the art she collected and a significant collection of Ming and Qing dynasty textiles, including imperial and court robes and rank badges. She also bequeathed nearly sixty outstanding artworks by contemporary Japanese artists who work in metal. A pioneering collector in this field, Shirley helped establish the global recognition it receives today. Her visionary bequest to the National Museum of Asian Art includes US$10 million—the largest single donation to the museum since its founding. This generous gift will endow the Shirley Z. Johnson Curator of Japanese Art, will sponsor visiting Japanese metal artists and will support other curatorial and conservation projects, carrying her work far into the future.
Christie's is pleased to announce that they will relocate their Asia Pacific headquarters in 2024 to The Henderson, a striking new urban landmark on Murray Road in Central, Hong Kong. With 50,000 square feet of art-inspired space, Christie's will be able to provide exceptional service to clients with a year-round saleroom and state-of-the-art gallery presence in Asia. This investment affirms Christie's commitment to the region, further strengthening its capability to serve the rapidly growing number of Asian collectors through a global network of salerooms and specialists. The decision not only underscores Christie's confidence in Hong Kong as the pre-eminent art and culture hub in Asia, but also testifies to the strong resilience of the art market in the region.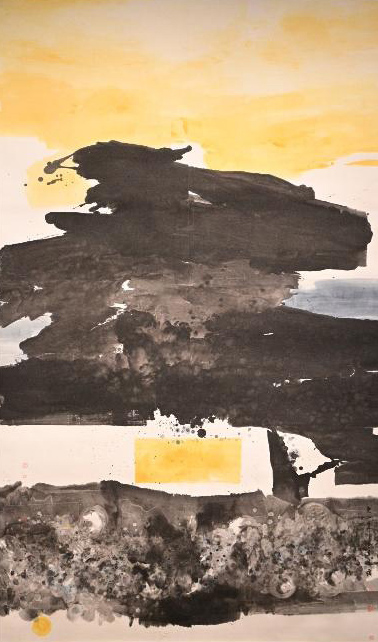 I would also like to introduce the exhibition entitled "When Form Matters: Following the Path of Lui Shou-kwan to Zen Painting", that is on show at Hong Kong Museum of Art (HKMoA) until April 10th, 2022. Featuring forty-one paintings by Lui Shou-kwan (1919−1975), the Hong Kong master of ink painting, from the collection of the HKMoA and eleven exhibits loaned from the Art Museum of the Chinese University of Hong Kong, the exhibition charts his lifelong artistic journey.
The pioneer of the New Ink Art Movement in Hong Kong, Lui was a star of the local art scene in the 1960s, and had a profound influence on the development of modern ink art. Throughout his career, Lui showed an unwavering commitment to promoting ink painting, Chinese and Western philosophies and art theories. Works by Lui's contemporaries and students, including the Hong Kong artists, Irene Chou and Wucius Wong, are also exhibited, paying tribute to the major contribution Lui made to art education and the development of modern ink art.
Alisan Fine Arts is pleased to present a group exhibition, "Pop Rock", guest curated by Olivia Wang and Jérémie Thircuir, which runs until November 6th, 2021. Featuring thirteen artists from Hong Kong and China, the exhibition highlights the diverse exploration and perspective of artists working in a range of different media—ink, photography, oil, sculpture, installation and video. For more information, please see Olivia Wang's interesting article on pages 138−142 in this issue.
Looking ahead, Fine Art Asia will return to the Hong Kong Convention and Exhibition Centre from October 8th to 11th, 2021, with a VIP Preview on October 7th. Last year, despite the many difficulties presented by the COVID-19 pandemic, Fine Art Asia managed to unite the Hong Kong art community in a rare physical art fair, which raised the spirits of everyone involved. Due to continuing travel restrictions, the focus will once again be on Hong Kong art and antiques galleries, as well as art institutions. Arts of Asia wishes the organisers and participants the very best for this year's fair, which I look forward to attending in October.
From October 21st to November 6th, 2021, Eskenazi will hold an exhibition dedicated to rare works of art from the Tang dynasty, a Golden Age of Chinese culture. The highlight is one of the rarest objects ever handled by the gallery: a magnificent and monumental head of a bodhisattva, one of the most significant surviving sculptures created in dry lacquer from the period.
This is only the second time that Eskenazi has dedicated an exhibition solely to the Tang dynasty, the first being in 1987. Presenting a wide range of objects in metal, stone, ceramic and silk, other rare and notable highlights of the exhibition include the finest known sancai-glazed zodiac figure from the period and a sancai-glazed earthenware ewer of outstanding quality. The exhibition coincides with the 24th edition of Asian Art in London (October 21st to November 6th, 2021), the annual event that unites London's Asian art dealers, major auction houses and art societies in a series of selling exhibitions, auctions, receptions and seminars.
From October 15th to December 11th, 2021 the Oriental Ceramic Society (OCS) presents its centenary exhibition, "Collectors, Curators, Connoisseurs: 100 Years of The Oriental Ceramic Society", at the Brunei Gallery, SOAS, University of London. Curated by Sarah Wong, the exhibition brings together, for the first time, more than 100 rare objects dating back 3000 years. On show will be ceramics, bronzes, jades, sculptures and works of art from some of the most outstanding collections in the UK, including the Victoria and Albert Museum, the British Museum and private individuals. The exhibition illustrates the Society's journey from a group of twelve connoisseurs and collectors to its present position as a leading global institution for the study of Asian art, especially ceramics. Exploring the role and legacy of the collector and the dynamic between institution and collector, the exhibition also examines changes in collecting taste over the course of the 20th century. The Winter 2021 issue of Arts of Asia will present informative articles about the OCS and the centenary exhibition.
I would like to take this opportunity to thank all of our international subscribers for your subscriptions and renewals. I realise these have been challenging times for so many people. Your support is greatly appreciated and I would like you to know that my team is working hard to prepare wonderful issues for the coming years.
Finally, on a personal note, our little bundle of joy has arrived! My wife, Nancy, and I are delighted to announce that our daughter, Kira Jade Markbreiter, was born on June 22nd, 2021 (Year of the Ox). Sweet and beautiful, she is a very welcome addition to our family.
---
Please click here to view the contents of this issue.