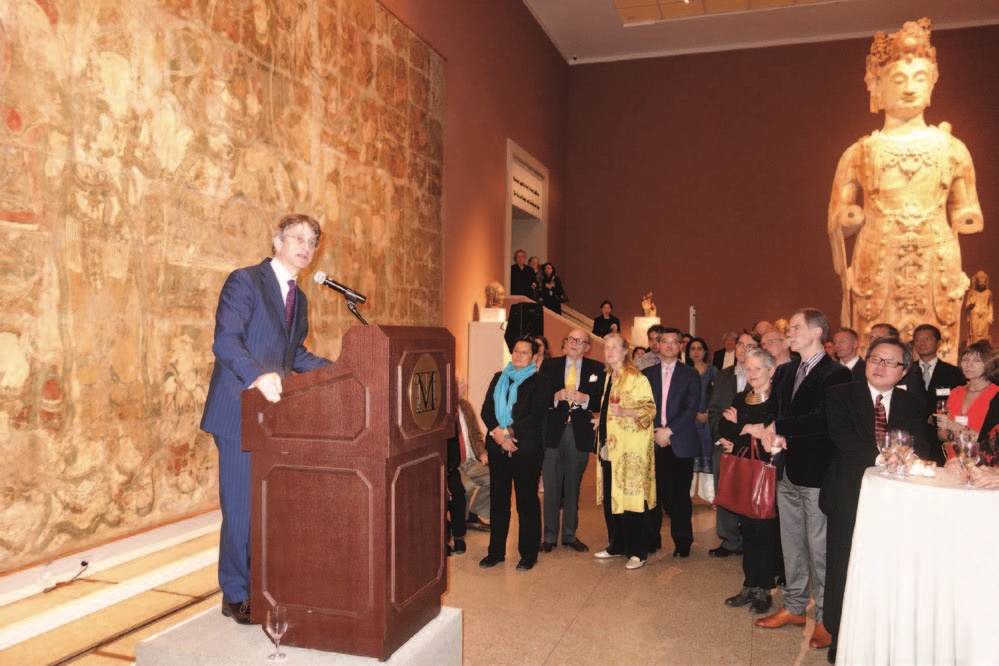 ASIA WEEK New York 2015 was a wonderful opportunity to view stunning works of art and meet new and old friends at parties, lectures, museum exhibitions, art galleries and auctions. It was the best Asia Week that I have attended, and I truly enjoyed the vibrant, friendly and dynamic atmosphere. The enormous number of collectors, curators, dealers and art lovers in Manhattan for the exciting activities was quite extraordinary, demonstrating that the level of interest in Asian art continues to grow. Wealthy Chinese collectors continued to be the dominant force, especially for the greatest collections sold at auction (see Saleroom News reports in this issue).
Thomas P. Campbell, director and CEO of The Metropolitan Museum of Art, announced in his speech at the Asia Week New York reception that marking the 100th anniversary of the Asian art department, the Met received two lavish donations from longtime supporters of Japanese, Korean, Southeast Asian and Chinese material, as well as financial donations in excess of US$30 million. The museum aims to raise a total of US$70 million for the department's staffing, exhibitions and acquisitions.
The estate of Mary Griggs Burke donated more than 300 Japanese and Korean works from her collection, along with US$12.5 million, to the Met. The Minneapolis Institute of Arts (also celebrating its centenary in 2015) received 670 objects from her as well, and the same bequest of funds. Florence and Herbert Irving, who already have an Asian Wing at the Met, donated over 1200 works of art from their collection of lacquerware, Chinese jade and stone sculpture. Oscar L. Tang, a leading Chinese-American philanthropist for education, arts and culture, has given US$15 million to establish an endowment fund. Mary Wallach, a Met volunteer since 1987 specialising in Japanese art, donated US$4 million to endow the new position of Mary and James Wallach Family Conservator of Japanese Art.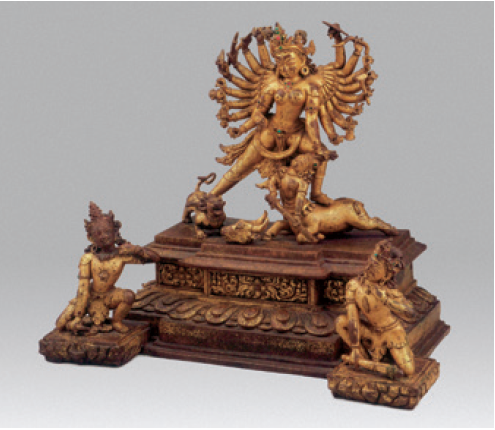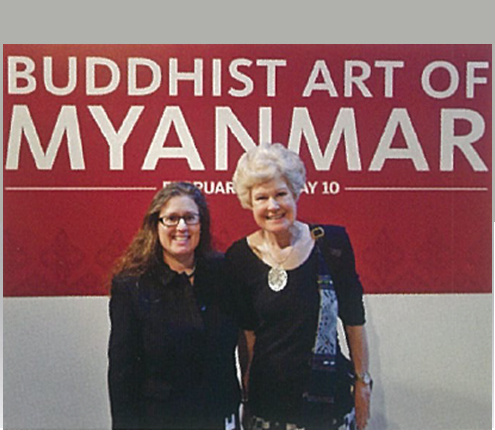 The Rubin Museum of Art also held a party during Asia Week to celebrate the museum's second decade and its new exhibition, "Becoming Another: The Power of Masks", bringing together mask traditions from northern India, Nepal, Bhutan, Tibet, Mongolia, Siberia, Japan and the Pacific Northeast Coast. The exhibition features a rich array of masks—focusing on those used in shamanistic practices, communal rituals and theatrical performances—as well as elaborate costumes and ritual implements. The cocktail reception was co-hosted by Beatrice and David Pritzker, Margot and Thomas Pritzker, Shelly and Donald Rubin and Vivian and Bob Tsao. Guests were able to tour the array of exhibitions on five floors of the building. I especially enjoyed "Masterworks: Jewels of the Collection" featuring exceptional paintings and sculptures from the Himalayan region. The outstanding 13th century Nepalese gilt copper alloy Hindu goddess Durga is just one of the more than 4000 compelling works in the museum's art collection.
Readers of the Arts of Asia March–April 2015 issue are aware that Sylvia Fraser-Lu and Donald M. Stadtner, with Dr Adriana Proser, John H. Foster Senior Curator of Traditional Asian Art, Asia Society, organised the exhibition "Buddhist Art of Myanmar". It was a pleasure to attend Sylvia's lively lecture, "Art and Devotion: Pathways to the Buddha in Myanmar", in New York. Even though it took place on a Sunday morning, the hall was filled with Asia Society members, art collectors and museum curators. We were treated to an exploration of the relationship between art and religious practice in Myanmar. The exhibition itself comprised seventy spectacular works, including stone, bronze and wood sculptures, textiles, paintings and lacquer ritual implements, from the 5th through the early 20th century.
The European Fine Art Fair in the Dutch town of Maastricht took place from March 13th to 22nd, 2015. The fair, known by its acronym TEFAF and often referred to simply as Maastricht, featured about 270 leading art dealers from twenty countries. The fair's reputation for quality brought over 70,000 visitors to see the very best works of art on display. TEFAF always draws the top echelons of the museum world and continues to maintain its position as the world's leading art fair. One recent change took place in its daily operations—after seventeen years, Paul Hustinx stepped down from the position of CEO and was replaced by Patrick van Maris, who will begin his role in May.
As many of our international subscribers enjoy visiting fairs, here is a list of interesting fairs for the coming months: International Antiques Fair, May 30th–June 1st, Hong Kong; Asian Art in Brussels, The Brussels Ancient Art Fair, and Brussels Non-European Art Fair, June 10th–14th; Art Antiques London, June 11th–18th; Olympia International Art & Antiques Fair, June 18th–28th; Masterpiece, June 25th–July 1st, London; Baltimore Summer Antiques Show, August 20th–23rd; Parcours Des Mondes, September 8th–13th, Paris; and Fine Art Asia, October 4th–7th, Hong Kong.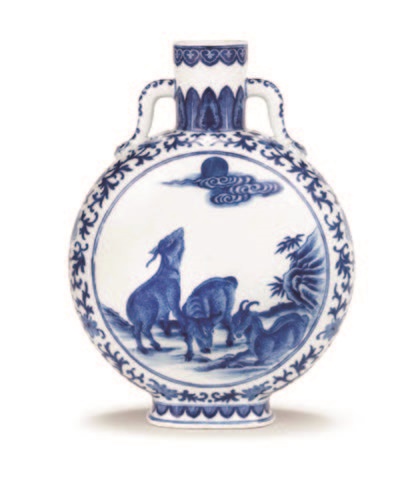 The always exciting International Antiques Fair takes place at Hall 5BC of the Hong Kong Convention and Exhibition Centre. The glittering VIP Opening Preview on Friday May 29th, 6–9 pm, will undoubtedly be very crowded with hundreds of local and international collectors as well as prominent dealers on the lookout for Chinese treasures in bronze, jade and porcelain, as well as furniture and paintings. In celebration of the Year of the Ram, Chak's Company Limited presents a remarkable and charming blue and white moonflask, delicately painted with three rams, Qianlong mark and period, height 24 cm. The fair is open to the public with free admission, and should not be missed by art lovers who are residents of Hong Kong or visitors to the city. Also, the third edition of Asia Week Hong Kong will be held from May 27th to June 11th with activities taking place all over Hong Kong. For more information please visit their website www.asiaweekhk.com.
London, a centre for the study and connoisseurship of Asian antiques, is another top destination for art enthusiasts to find great works at established galleries. Eskenazi will present an exhibition of thirty important Chinese ceramics of the Song dynasty from May 8th to 29th, 2015 in London. The ceramics come from a highly distinguished private collection and represent almost all the principal wares of the period. This exhibition will offer a fascinating insight into the history of the enduring international popularity of these Chinese wares, with examples previously owned by many of the most celebrated Western collectors of the 20th century. One of the highlights of the exhibition is an extraordinary black-glazed stoneware "leaf" bowl. This Southern Song period, 12th–13th century, bowl was formerly in the collection of Mr and Mrs Alfred Clark and has an extensive exhibition history.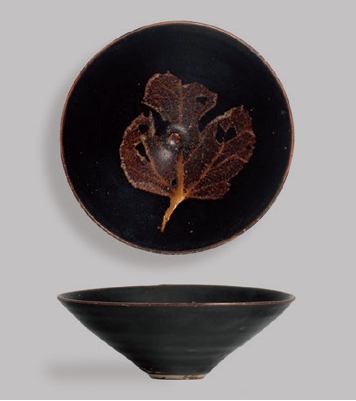 In May, Marchant will publish two exhibition catalogues, "Qing Porcelain from Private Collections" and "Chinese Export Porcelain", to celebrate ninety years and four generations in business. There are fifty pieces in the "Qing Porcelain" catalogue, of which twenty-two are "mark and period". The "Chinese Export Porcelain" catalogue is the first Marchant exhibition devoted solely to the subject. It concentrates on 18th century porcelain specifically ordered by and for the Western market. The pair of famille-verte European figures deserves special mention. Marchant have reunited them after being separated for more than seventy years. The gentleman was published in their 2007 catalogue and was formerly in a German private collection, illustrated by Von Walter Bondy in his 1923 book, Kang-Hsi. Seventy-two years later, his lady appeared in the collection of Khalil Rizk and was illustrated in a catalogue of the New York exhibition held in 1995 by The Chinese Porcelain Company. At last, the gentleman has found his lady!
To complete this Editorial, I am pleased to announce that Arts of Asia is a proud sponsor of the Chinese Incense Conference, May 1st–2nd, 2015 in Nanjing, organised by the Chinese Cultural Studies Center. This upcoming event brings together scholars and experts in the field of Chinese incense to share information regarding the incense culture, a tradition that dates back to the Neolithic period more than 5000 years ago, flourished in the Song dynasty and up to the Qing dynasty. The conference will include talks and live incense demonstrations and ceremonies.
---
Please click here to view the contents of this issue.