IT WAS A PLEASURE to see Dr Thomas P. Campbell, director and CEO of The Metropolitan Museum of Art, and Dr Maxwell K. Hearn, Douglas Dillon Chairman of the Department of Asian Art, at the Asia Week New York reception on March 14th, 2016. More than 650 people attended the glittering event at the Metropolitan Museum, and it was a unique opportunity to meet many friends at the same time in such a superb location. Guests were treated to curator-led gallery viewings of the Met's Asian art exhibitions and permanent collection. My wife, Nancy, and I admired the masterpieces in the Chinese galleries, the arts of Japan from the Mary Griggs Burke Collection, and the exhibition of recent gifts from Nepal and Tibet. I must say that the Asian art galleries at the Met are stunning, and the carefully chosen colour schemes and decoration beautifully complement the impressive works of art on display. Welcome speeches were delivered by Dr Campbell, Dr Hearn and Mr Lark Mason, chairman of Asia Week New York. It was a lovely surprise when Dr Hearn acknowledged Arts of Asia in his speech. It is rewarding to know that this publication is appreciated by dealers, collectors, academics, scholars, universities and museums. I am also very proud that we are helping in furthering the appreciation and understanding of Asian art.
During my busy nine days in New York, I covered almost every exhibition, auction and special event held at Asia Week. I especially enjoyed catching up with art collectors at important gallery exhibitions. It was exciting to meet and exchange ideas with museum curators from all over America, as well as those coming from overseas. Lark Mason commented: "Despite concerns of the Chinese economy affecting Asia Week New York, the galleries saw steady traffic throughout the week, and the four major auction houses, including Bonhams, Christie's, Doyle and Sotheby's, saw sales that were robust". From my perspective, this Asia Week was one of the best I have attended. Several marvellous Chinese and Japanese pieces caught my attention, and Nancy and I came home with some lovely items for our personal collection. Asia Week New York is always a great learning experience, as well as an excellent opportunity to find rare works of art. Like many of the collectors and dealers I met in New York, I am already looking forward to next year's event.
At the end of my successful New York trip, I hosted a lunch for Arts of Asia Contributing Editors Sheila Canby and Denise Leidy from The Metropolitan Museum of Art, and Jan Stuart, Melvin R. Seiden Curator of Chinese Art at the Smithsonian's Freer and Sackler Galleries. It was an excellent opportunity to hear more about upcoming Asian art exhibitions, publications and programmes in America and abroad. Amy Poster, Curator Emerita and former Chair of the Asian Art Department of the Brooklyn Museum, also joined our lunch. Although not a Contributing Editor, she has certainly been a good friend over the years, contributing articles and helpful ideas. I was delighted to hear that Amy has recently been appointed Consulting Curator of Asian Art of The Museum of Fine Arts, Houston.
I had wanted for some time to provide a jade-themed issue and I hope our readers will learn as much as I did from the three interesting articles in this May–June 2016 edition of Arts of Asia, written by Dr Guo Fuxiang, Research Fellow at The Palace Museum, Beijing; Carol Michaelson, Margaret Sax and Hong Wu; and Kerry Nguyen-Long and Nguyen Dinh Chien. Readers will also appreciate the fine contributions by James C.Y Watt, Christian Boehm, Katherine Don, Sheila Canby, Ming Wilson, Rose Kerr and Florian Knothe, among others.
I would especially like to thank James Watt (Qu Zhi-ren), who wrote an article for the very first edition of Arts of Asia, the January–February 1971 issue, entitled "Wong Po Yeh-Painter of Hong Kong". His second article, "George Chinnery, Painter" was published in the March–April 1971 issue. That was more than forty-five years ago and after a stellar career, today he is one of the world's most respected and distinguished Chinese art scholars.
The famed Pilkington Collection of Chinese Art, auctioned on April 6th at Sotheby's Hong Kong, achieved a staggering HK$502.8 million (US$64.5 million), far exceeding the presale high estimate of HK$222 million (US$28.5 million). Formed in the late 1950s and 1960s, the collection is generally acknowledged as one of the finest held privately. I want to highlight this event for two reasons: First, the sale illustrates, yet again, the elevation of Hong Kong as the major competitor in the Chinese art auction market to New York and London. Second, collectors have responded with gusto to acquire some of the most famous imperial ceramics and works of art, despite the current economic slowdown in China and the recent sharp fall in regional stock markets. In-depth Saleroom News reports on the Chinese Works of Art Spring Sales in Hong Kong are scheduled to appear in our July–August 2016 issue.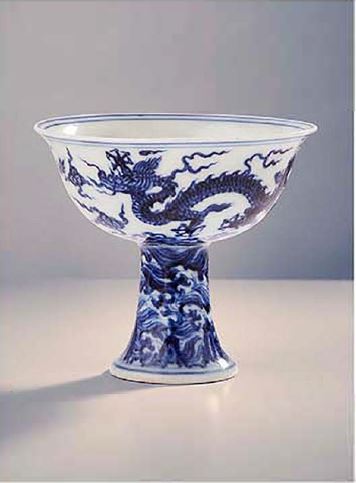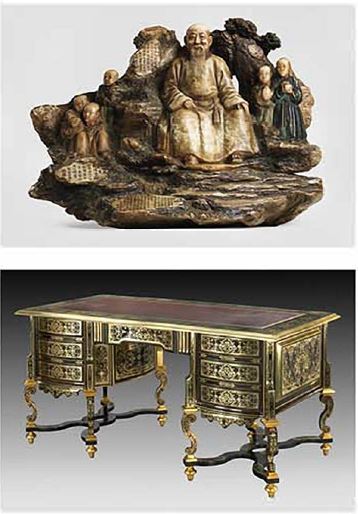 There is no doubt that Hong Kong is now a global centre for selling the highest quality Chinese art and antiques. Richard Cervantes from Freeman's of Philadelphia and Lee Young of the Edinburgh-based Lyon & Turnbull invite Arts of Asia readers to attend their inaugural Hong Kong auction for Chinese works of art on Tuesday, May 31st, 2016 at Liang Yi Museum (181–199 Hollywood Road). The star attraction of the sale is The Thornhill Stem Cup, which I was fortunate enough to view last November in London and recently again in New York. This exquisite blue and white "dragon" stem cup, Xuande mark and period, is from the Ernest Thornhill Collection that was bequeathed to Staffordshire University in 1944. Published in 1983–1984 by the Oriental Ceramic Society, the stem cup has a sales estimate of £2,000,000–4,000,000. It is finely painted in dark blue tones with two five-clawed dragons chasing the eternal pearl amongst clouds, above a sea with crashing waves. I wish Richard and Lee all the best for their first auction in Hong Kong, and hope the important stem cup finds a wonderful new home.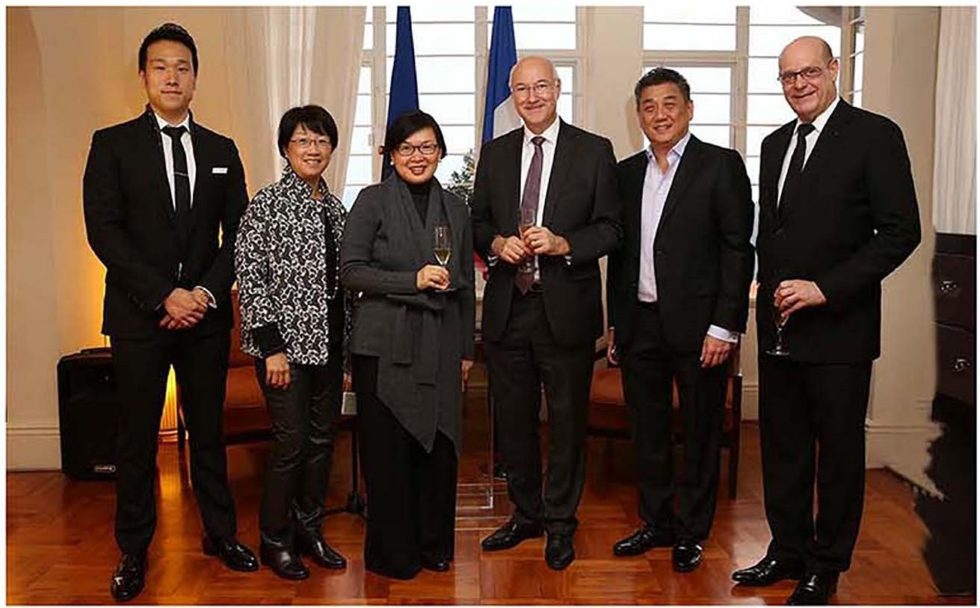 Finally, I can scarcely believe that another year has passed and the ninth edition of the International Antiques Fair (IAF) will be taking place at the Hong Kong Convention and Exhibition Centre from May 28th to 31st, 2016. Founded by William and Priscilla Chak and managed by their son, Ronald, IAF is now one of the most established antiques fairs in Asia, with more than eighty antique dealers expected to participate, including a group of prestigious dealers from France. On March 4th, a well-attended cocktail reception was held at the Residence of France in Hong Kong, rounding off a very successful promotion tour through different cities in Asia. This year, the fair organisers and exhibitors have expanded the offering, and hope to delight collectors by presenting fine and rare Asian and Western antiques, including sculpture, furniture, paintings, ceramics and scholar's items.
---
Please click here to view the contents of this issue.