TO COMMEMORATE the Freer Gallery of Art's centenary, I am delighted to publish the article, "Anyang: China's Ancient City of Kings", written by J. Keith Wilson, Curator of Ancient Chinese Art at the Smithsonian's National Museum of Asian Art in Washington, DC. This is the first major exhibition in the United States dedicated to Anyang, the capital of China's Shang dynasty. The exhibition features more than 200 remarkable artefacts, including jade ornaments, ceremonial weapons, ritual bronze vessels, bell and chariot fittings, drawn exclusively from the National Museum of Art's permanent collection. I hope Arts of Asia readers will have the opportunity to explore the exhibition, which will be on view at the Arthur M. Sackler Gallery (Galleries 23 and 24) until April 28th, 2024.
After its relocation from the south-west District of Dahlem, the Museum für Asiatische Kunst (Asian Art Museum) reopened in 2021 in the city centre of Berlin. I am delighted to publish five articles written by the museum's distinguished curators to coincide with the autumn 2023 opening of the east wing at the museum, containing the new "Religious Art from Southeast Asia" gallery.
Rose Kerr, a Contributing Editor to Arts of Asia, is a former Keeper of the Far Eastern Department at the Victoria and Albert Museum. She has had a fascinating career and her scholarship includes seminal work on Song ceramics and later Chinese bronzes. Her article for this Winter 2023 issue shows outstanding features of Longquan ceramics from the Northern Song dynasty onwards.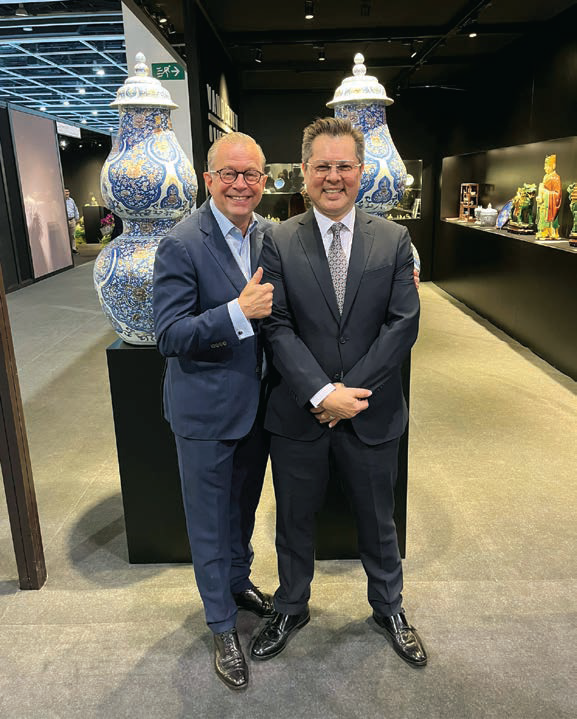 Clarissa von Spee is Chair of Asian Art and Curator of Chinese Art at the Cleveland Museum of Art. "China's Southern Paradise: Treasures from the Lower Yangzi Delta" is the first exhibition outside Asia that focuses on the artistic production and cultural impact of the lower Yangzi delta. Objects on display date from the Neolithic cultures to the 18th century, and materials range from jade, silk, prints and paintings to porcelain, lacquer and bamboo carvings.
I would like to thank the curators at the Philadelphia Museum of Art for their enlightening article, "The Shape of Time: Korean Art after 1989", which looks at the past thirty-plus years of artistic practice in South Korea. Their exhibition will be on view at the Philadelphia Museum of Art from October 21st, 2023 to February 11th, 2024.
Alfred Haft is a curator of Japanese art in the Department of Asia at the British Museum. The spectacular exhibition, "Beyond the Great Works by Hokusai from the British Museum", features a stunning collection of more than 100 paintings, drawings, woodblock prints and illustrated books that shed light on the life and artistic brilliance of Katsushika Hokusai (1760–1849), the visionary artist renowned for creating The Great Wave, one of history's most iconic prints.
"China in Maps: 500 Years of Evolving Images" at the Hong Kong University of Science and Technology presents one of East Asia's most important collections, comprising more than 300 European and Chinese maps. On view until June 7th, 2024 are around seventy from the Song dynasty until the end of the Qing dynasty, in dialogue with contemporary art.
I recently had the pleasure of attending the Hong Kong auctions at Sotheby's, Poly, China Guardian and Bonhams, as well as Fine Art Asia. It was wonderful to see many international curators, collectors, dealers and friends in Hong Kong and I am confident that more visitors will return in the coming months and years.
I am also excited to attend Asian Art in London (AAL) again. This year's edition will feature more than thirty leading galleries and auctions houses, with the "Indian & Islamic Art" programme taking place from October 19th to 28th, 2023 while the "East Asian Art" section runs from October 26th to November 4th, 2023. The annual champagne reception takes place on October 26th at Sotheby's, New Bond Street. Late night openings for "Indian & Islamic Art" are on Friday October 20th at Cromwell Place and Sunday October 22nd in St James's, with those for "East Asian Art" on Friday October 27th at Cromwell Place, Saturday October 28th on Kensington Church Street, Sunday October 29th in St James's and Monday October 30th in Mayfair.
Marchant will host the fascinating exhibition and sale of "Kangxi Biscuit and Pottery: A Private French Collection" from October 23rd to November 3rd, 2023. This group of 17th century and early Kangxi ceramic wares originate entirely from one collection formed between the early 1920s and 1941. The exhibition contains forty charming examples of Chinese ceramics, including an impressive and extravagant figure of Guandi. Stuart Marchant said: "The body armour gleams and interlocks, the straps are realistic and his shoulders, which are surmounted by open mouthed mythical animal masks, are astounding; he sits in a dominant pose with a leg raised on his lion-skin draped rockwork throne. This piece is an absolute tour de force of both sculptural and artistic impact and was perhaps one of the best pieces in the original collection."
From October 19th to November 4th, 2023, Eskenazi celebrates works of art from the Song dynasty, a golden period in Chinese history. "Chinese Ceramics, Lacquer and Gold from the 12th to the 14th century" presents eighteen rare and significant objects, and also highlights the historic and enduring appeal of Song ceramics in Japan, where they have been collected and cherished since the time of their creation. Song ceramics have held profound cultural significance since the emergence of the tea ceremony in the 16th century, in which tea bowls play a central role. The exhibition includes an extraordinarily rare stoneware Jian tea bowl, which was first recorded as a treasured object in Japan in the 17th century and has until recently been on loan, for almost fifty years, to the Jotenkaku Museum in Kyoto. Together with a mother-of-pearl inlaid lacquer stand, it has been passed down through generations of Japanese family collections.
Dore & Rees is delighted to offer "The Anthony Lovett Collection", featuring beautiful Kangxi period porcelain, for sale by auction on November 6th, 2023. I had the pleasure of meeting Anthony Lovett in Hong Kong earlier this year when he explained: "I started collecting porcelain shortly after qualifying as an accountant in London in the 1980s. Initially, they were decorative pieces not necessarily from a specific period, but as my love for Chinese ceramics grew, I began to focus on the historic aspect of the Kangxi reign—deeply appreciating the free style of painting that this period offers. As my interest developed, I began to learn and research, where possible, the stories of many of the pieces. Fortunately, at that time there were more good quality pieces available in the market and so I was able to collect a range of both shapes and styles, with a number of pieces having prominent provenances—Leonard Gow, Alfred Trapnell, R.H.R. Palmer, The Hon. Mrs Nellie Ionides." I wish Anthony the very best of luck for his sale.
To discover more information about AAL, I recommend reading the AAL 2023 Guidebook on the AAL website, that lists participants' exhibitions, auctions and related events. Finally, I would like to wish all our readers a very happy Christmas and New Year.

---
Please click here to view the contents of this issue.